Cross-country skiing trails
Putten Seter is located in the center of skiing trails. You can put on your skis outside the door. There are approximately 150 km. of marked trails at Putten Seter, Høvringen, inside and outside the Rondane National Park. See trail maps at vinterirondane.no.
Sledding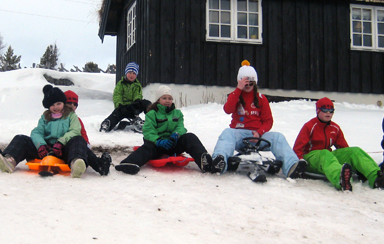 Right next to the main building there is a very good ski and sledding runs for both children and adults. Here it is nice to practice skiing, snowboarding, making jumps and sledding.
Join us for an exciting and challenging experience down Formolia (This activity is dependent on enough snow)!
Watch the film below:

Groups can contact us to arrange sledding with torches and something extra.
Trip to Utsikten
Join us for a nice afternoon trip with coffee, and roast hot dogs on a bonfire for those who wants.
Høvringen ski school
Høvringen ski school has several offers for those who wants to learn skiing. Contact us or Høvringen ski school for reservation.
Guided skiing trip
We arrange half day trips on thursdays, where we are dependent on weather. We are skiing both inside and outside the slopes. The level is intermediate, and most can join. Reservation needs to be done to Høvringen ski school. From week 7 until week 14.
Mountain services in Rossbu chapel
Rossbu chapel is a private chapel built by Alf Christian Rossow, inaugurated in 1999 with room for about 50 people. The chapel can be rented for weddings, christenings and religious services. Services in the winter is held on New Year's Eve at 4 pm and Maundy Thursday in Easter at 12 pm.
If you want to rent Rossbu chapel, please contact us.